About Us
We provide the best tools and resources for your flooring and remodeling business
Floorzap is an innovative new software that is revolutionizing the flooring and remodeling industries. Our founders are experts with a long history in the flooring and software engineering fields and have collaborated to bring you the most functional software, tailored specifically to the flooring industry. With our expertise and experience, we identified the need for a "one stop shop" flooring app and made it our goal to fill that gap.
The complexities of owning and operating a successful flooring business can be overwhelming, and we knew we could create and develop a product that would offer exactly what the flooring industry needed. After trying every software on the market to manage these unique industry needs, we could not find one solution that included all of the services and features that we were looking for. Now Floorzap is here to help!
Floorzap takes the guesswork out of inventory maintenance, product and supply ordering, contractor scheduling, sales commissions, job measurements, invoicing, customer management, and so much more. Floorzap can also support your success with our social media management, web design, and search engine optimization services.
Flooring Experts
Technology Experts
Flooring Software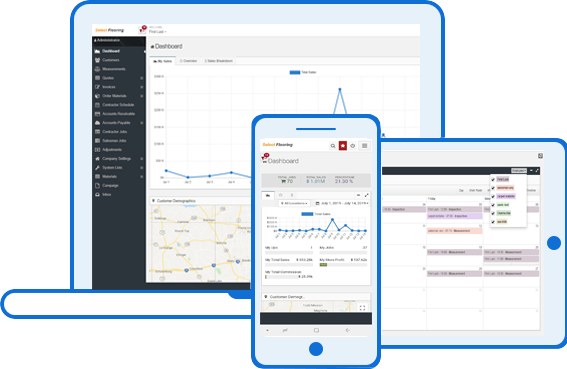 One dynamic platform for all your flooring management needs
Floorzap allows you to organize and streamline every aspect of your flooring business in one cloud-based flooring solution. Administrators, contractors, and sales professionals can have individualized, custom access to your store's portal allowing them to manage appointments, scheduling, and invoicing. The application is available to each user on their computer and mobile device, allowing anyone to manage their day on the go, on location, or in-store. Floorzap's experienced professionals will work with you to customize the tool to meet your specific needs and help you achieve your unique goals.